About Trippet Hall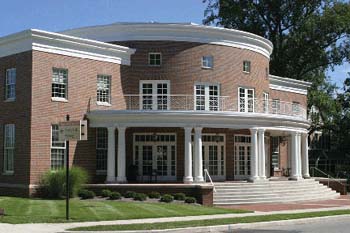 History
Trippet Hall is named after Byron K. Trippet, who was a 1930 graduate of Wabash. He was a Rhodes Scholar at Oxford University and returned to Wabash in 1936 to begin a 30-year career as teacher and administrator. He served as the College's ninth president from 1955-1965. A staunch proponent of the liberal arts, Trippet served as professor, assistant dean, dean, president, and trustee during his Wabash tenure.

Building Facts
Construction was completed in late August 2002 and was fully occupied in September 2002. Trippet Hall houses Admissions, Financial Aid, HEDS, Center of Inquiry and the Wabash Pastoral Leadership Program.
The total size of the building is 30,835 square feet with the following breakdown:
| | |
| --- | --- |
| Building Section | Size |
| Admissions/Financial Aid office space and three interview rooms | 5,960 sq. ft. |
| Guest Suites (18 rooms) | 8,720 sq. ft. |
| Meeting rooms, rotunda areas, offices for Center of Inquiry, dining room, kitchen | 16,155 sq. ft. |
| Total size | 30,835 sq. ft. |
Welcome Center
Trippet Hall is the "official" welcome center of the College. Stop by for a visit and tour our facilities.